Digital media and platforms are the biggest platforms available today. And to gear up your brand's promotion and marketing, you definitely need to follow the recent digital media trends which are being followed. As it is proven that change is the only constant thing in this world, a brand should also change the methods of digital marketing, as the trends come and go. So let's check on the recent trends in the digital market of the world, which can not be unseen and ignored by the Digital marketing agencies.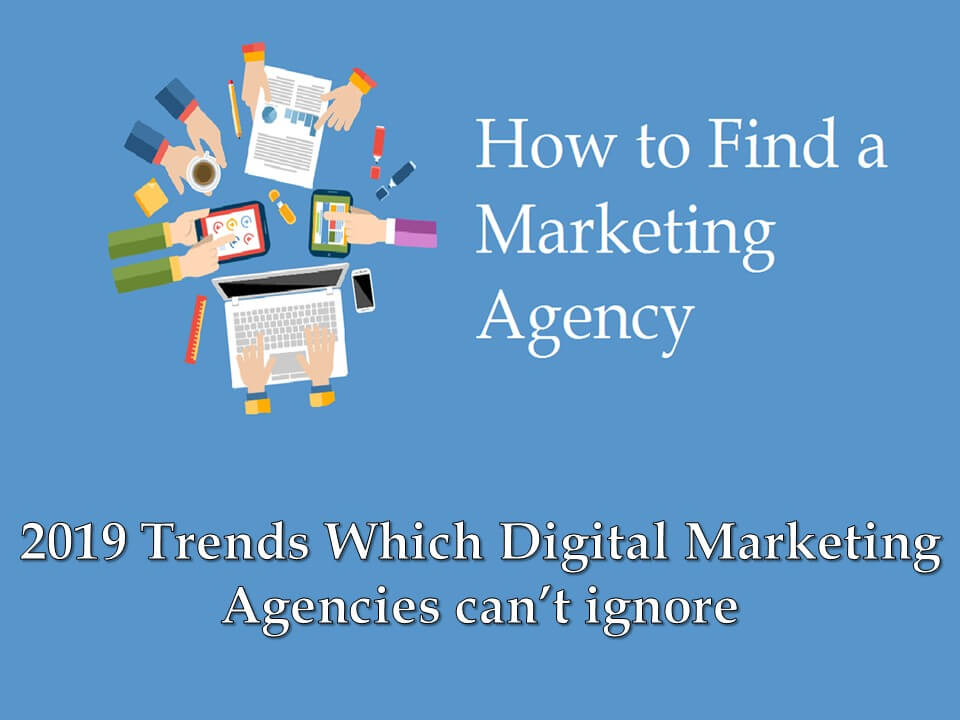 Artificial Intelligence
Artificial Intelligence is very rapidly grasping over the whole world, and even the marketing is not spared. Previously there were actual people to respond to any queries by the consumers, and now everything is automated by Artificial Intelligence. One can open the website of a particular brand, submit a query, and get a prompt answer and solution all by Artificial Intelligence. This saves time, this is instant, and getting extremely popular and convenient. To survive and rise in the game of marketing, the digital marketing agencies cannot ignore this trend at all.
Chatbots
Chatbots are also an integrated part of AI, but slightly more convenient for the users. Here users can chat with the Artificial Intelligence in real time to suffice their respective queries. Chatbots are lucid in nature to be used. Many consumers prefer to talk to chatbots instead of customer care executives, as the chatbots are prompt and provide instant replies. It meets the consumer's expectations and there is nothing more which can keep and sustain the patrons like this. In a survey, it is seen that by the year 2022, the chatbots will help companies to save up to billions. Digital Marketing agencies all over the world make use of chatbots in their marketing process to keep up with the trend.
Personalization
This is another most interesting part of marketing where the user's interest, cache memory of the browser, searching habits and interests are monitored for over a period. And on the basis of that, a database is created about their respective choices and interest. Now by intriguing the personal interests and choices, there will be push notification advertisements and marketing, which they can relate too. This is a brilliant tool used by online stores as big as Amazon to fetch consumers, showing them the ad of the product which they already want.
Short and prompt videos
People are really busy everywhere, but however, they manage to scroll enough news feeds over the social media platforms all throughout the day. It is proven in a survey again, that viewers prefer watching short and engaging videos over their feeds. And digital marketing agencies cannot ignore the fact, the most amounts of traffics are engaged through short videos only. So in order to level up the marketing quality, you just need to come up with consistent short videos showcasing your product over the various social media platforms.
Social Influencers
This is the biggest trend which can turn out to be extremely beneficial for your company and brand. In the era of internet, there are many digital superstars along with the movie stars and other celebrities, having a huge fan following. Brands reach to them for doing the brand's promotion, and the Influencers promote the respective brands. As the huge fan following already trust and admire the celebrity, there is a high probable chance they will begin to trust and believe in hour brand and product too, as they are influenced. Digital Marketing agency ties up with celebrities and digital superstars with paid promotion, and the viewers will also know it is a paid promotion of the brand maintaining the transparency.
People live in Micro Moments now
According to Google, people almost spend a good 3+ hours on the internet in their respective smartphones a day. And this changed the entire game of how marketing teams are going to buy people's attention, as each post get only a few seconds time slot to be appealing in those 3+ hours. So utilizing the Micro Moments, the Digital marketing agencies should come up with too short but crisp posts to grab the attention of viewers. The concept of Micro-tales also evolved, as they are able to narrate the whole substance of a novel in just 25words, which takes only a few seconds to be read.
Social media stories and voice search
People opt for voice searches nowadays, even to buy products. Like the command "Alexa, buy some apples" and it will be bought automatically. Digital Marketing agencies can not any way ignore this platform to take the game a level ahead from others. Also, social media stories are extremely appealing and prompt to get the attention of the consumers very easily.
These trends cannot be missed by any digital marketing agencies in order to sustain and rise in the market.