Are you currently doing a 9-5 job or having your own business? It might be sometimes quite hectic to manage everything in your job or business. So, have you ever given a thought about earning money with affiliate program? If no, don't miss giving a thought upon it.
Affiliate program is an easy way of earning money online by just promoting a company's products using the marketing materials offered. You might have heard about this term from your colleagues and friends too. Many have earned great commissions by becoming an affiliate. The marketing materials offered are banner or text links and when someone clicks on one of the two and buys the products from the company with your referral link, you get the commission. It's very simple.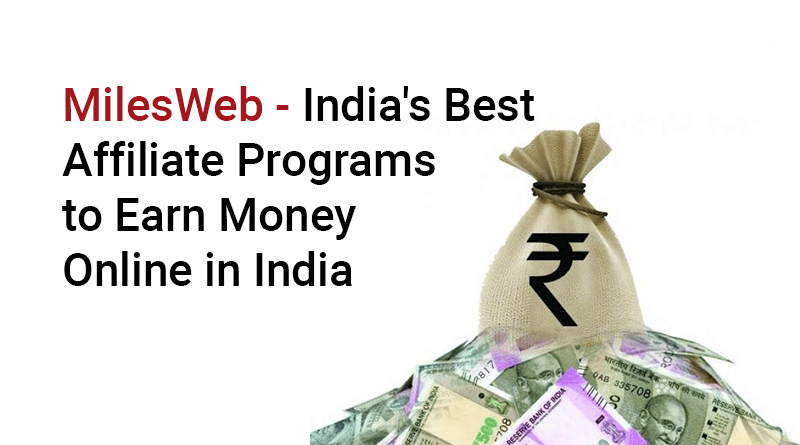 Also Read: Online Copy Paste Jobs: Without Investment & Registration Fees – Get Daily Payment in India
But there are several niches which run the affiliate programs. Currently, the web hosting niche is booming in terms of affiliate program. So, you will find several web hosting companies that are motivating you to join their affiliate program but in India, MilesWeb is gaining popularity for its affiliate program. Let's check the reason for this.
MilesWeb in Few Words:
MilesWeb was established in 2012 and today ranks as the leading web hosting provider of India. The company is based in Nashik, Maharashtra and offers all types of hosting services – from shared hosting to cloud hosting at reasonable prices. They understand their customers' needs and ensure that they offer world-class service to them. Whether it's Linux and Windows administration, issues regarding cPanel and Plesk control panels, virtualization technologies and or website migration, MilesWeb's experts will do it all for you. They not only resolve the complex issues on the server but also help in downtime reduction, improving performance and minimizing support costs for their customers.
Reasons to Join MilesWeb Affiliate Program:
Below is a list of reasons to promote MilesWeb on your website:
Free Registration: MilesWeb allows you to register for free. They are running one of the best affiliate program. You don't need to pay any fees to register for their affiliate program.
Get Affiliate Bonus: You earn Rs.1000 bonus into your affiliate account immediately after you complete their affiliate program's sign-up process.
Earn the Best Commission: Your commission is calculated from the total order value (excluding tax). The order value can start from Rs.650 to Rs.650000 or more.
Easy Payout: Each time your affiliate balance reaches to a value of Rs.2000, you will get paid by them.
No Minimum Monthly Sales Target: You don't need to cover particular number of targets monthly to earn money. Though you refer a single customer in a month, you get qualified for the payment and get your commission.
Short withhold Period: You don't need to wait for long to receive your commission as they approve your commission just after 30 days of sale.
Eye Catching Banners: You get plenty of attractive banners to post or if you want custom size banners, you can request for them.
 Weekly Affiliate Payments: They process the payment once every week. If one gets qualified for the payout, he/she will be paid in the same week.
Limitless Earning Potential: There is no limit on how much you can earn. It means you can refer the products/services to any number of customers.
Three Steps to Get Started with MilesWeb Affiliate Program:
You can sign up for their affiliate program.
Then, login to the affiliate portal and choose the banner or text link as per the requirement of your website or blog.
Place the banner on your website or blog and start earning your income.
That's so simple! Stuck in finding a place to insert the banners:
Tips to Insert the Banners:
You will need to insert the banner at such a place where it will grab the attention of your visitors. So, place the banner either on the header/ footer of your home page/blog or on the right- side bar/ left- side bar of your home page/blog.
Easy Way to Get Sign-ups:
Do you want to get more sign-ups? Insert the banner on the home page or the page on which your visitors spend maximum time. Due to this, your visitors will keenly observe the banner and immediately click on it to purchase the products, bringing you more sign-ups.
Summarizing…
It's a fact that today you want to find a way that will help you earn instant money. Affiliate program is surely the best way to earn money online immediately. After going through the article, you might have got the idea about how helpful is MilesWeb's affiliate program for those who want to earn money online without any tedious tasks involved. So, join hands with MilesWeb and starting earning today.