Buying Bitcoin in India has now become easy as there is number of platforms which are offering simple and easy ways for doing so. Since there is the considerable amount of people who are trading in Bitcoins in India, several platforms have offered to buy Bitcoins and Bitcoin Cash using INR. Some Indian platforms have been set up for the purpose and many other global platforms also exist which allow buying Bitcoin Cash in INR. 12 of such exchanges are briefed below.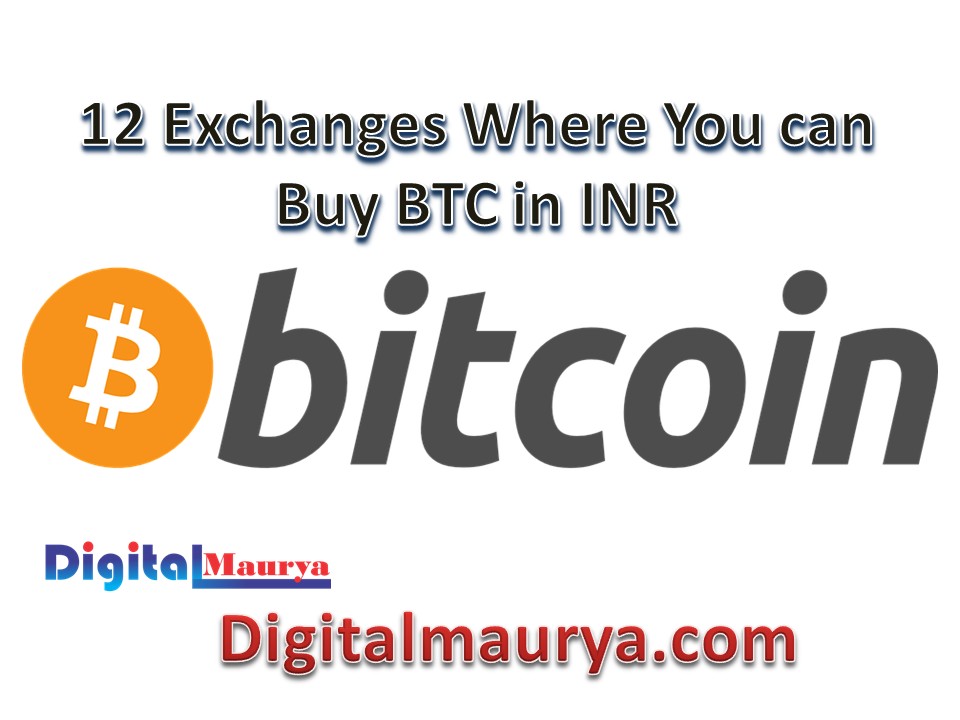 1)    Unocoin:-
This native platform for Indians is supported by the investors of UK. This makes the credibility of Uncoin substantial for users to buy Bitcoin Cash in INR. Also, customers can get Bitcoin Cash using online accounts like NEFT.
2)    Throughbit:-
This is that place where users or traders exchange of Ether tokens and Bitcoin by putting the use of INRFalcon. Charging fees for each transaction is 0.75% here.
3)    Pocketbits:-
This is Nashik based exchange for cryptocurrencies and allows an exchange of Bitcoin and Ethereum in INR.
4)    bitxixo:-
This is one of the most alluring cryptocurrency exchange platforms as it charges 0% fees for buying and selling trading in Bitcoin. This platform also facilitates instant trade in Bitcoins.
5)    Zebpay:-
Ahmedabad based platform, Zebplay is counted as one of the most oldest platforms which allow trading in Bitcoin and exchange of Bitcoin Cash in INR. It has iOs and android app of its own and these apps support fast trading and transactions.
6)    Coinome:-
This is the subsidiary of a big name in cryptocurrency which owns BillDesk. It provides instant e-KYC service instantly. The biggest strength of Coinome is this only, as e-KYC is not supported in many sites so time constraint is negligible if one opts for trading and exchanging of Botcoin Cash in INR using Coinome.
7)    Koinex:-
Koinex:- It is the new but successful platform where cryptocurrency exchange and Bitcoin Cash exchange is possible in INR. Many other cryptocurrency exchanges like Ethereum Tokens, Ripple, Latecoin are supported by Kionex.
8)    LocalBitcoins:-
This is a bit different platforms as it offers peer to peer exchange in the offline mode in the world. It is an escrow facility so payments are carried out in private meetings and are supported by LocalBitcoins. Since this platform offers the private method for exchange, the trust is more and so this is the biggest strength of LocalBitcoins.
9)    btcxIndia:-
Trades of Bitcoins and Ripple are only supported by this platform but even after this, it is counted as one of the successful platforms for the exchange of Bitcoin Cash in INR.
10)    Coinsecure:-
Coinsecure is a hub for cryptocurrency exchange for nearly all countries to buy and exchange them using credit or debit cards. It charges 0.3% fees which is very low and so it attracts population from the world for cryptocurrency exchange.
11)    Coinmama:-
The fees Coinmama charges is 6% but with this is provides a benefit of buying highest limits of Bitcoins and so an exchange of Bitcoin Cash. People who trade and exchange big amounts of Bitcoin or Bitcoin Cash are the main users of Coinmama.
12)    Bitcoin ATMs:-
One can get help from Bitcoin ATMs for buying bitcoins in cash. They are the private and fast way of getting cash using Bitcoins. Once you receive Bitcoins, then you can use platforms such as Mycelium Local Trader or LocalBitcoins to get them exchanged in Bitcoin Cash.